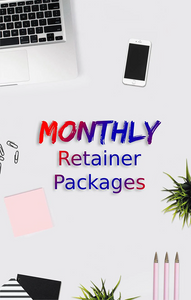 Shopify Support Hours - Monthly Retainer
Regular price $329.00 Sale
Maximize your productivity and unlock growth potential by outsourcing the tasks that are holding you back. Our monthly retainer services can provide you with a range of support, including:
All Website Development needs
Professional Website Design changes
Shopify Flow and Shopify Scripts 
Shopify App and Custom App Configuration and Management
Theme Upgrades
Product Uploads
Audits (Performance and Conversion)
Strategy Assistance

Troubleshooting
Here's how it works:
We'll collaborate with you to determine the scope and budget for retainers ranging from 5 to 40+ hours per month
Together, we'll create a customized plan that outlines the tasks we'll handle and the frequency of updates (weekly reports, milestone maps, etc.)
Your hours will be tracked in 15-minute increments, with any unused hours rolling over to the next month as long as your retainer plan is active
You have the flexibility to adjust your monthly retainer up to 3 days before renewal each month, giving you complete control over your budget
If you exceed your monthly hours, the additional hours will be pro-rated and billed at the end of each month
Cancel or Pause Your Membership: You can cancel your retainer at any time with 3 days' notice before your monthly renewal. If you need to take a break, you can pause your account up to 2 times per year for up to 3 months each time. If your account becomes inactive, unused hours and rollover hours will be forfeited.