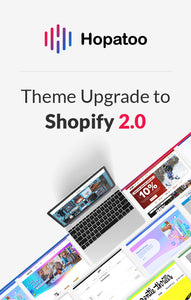 Upgrade Theme to Shopify 2.0
Regular price $375.00 Sale
Get ready to take your Shopify store to the next level with our Online Store 2.0 theme upgrade!
Imagine having customizable sections everywhere, giving your store a one-of-a-kind look and making it a breeze for customers to navigate.
Picture yourself with advanced metafields at your fingertips, giving you complete control over your store's data.
Think about how easy it would be to filter products with built-in storefront filtering, without the need for any extra apps.
Envision the endless possibilities with dynamic sources for next-level customization options.
And let's not forget, the faster store speeds, optimized for Google Search, will have customers flocking to your site in no time.
Oh and let's not forget the cherry on top: App blocks that allow you to add functionality to your store without needing to write any code!
With our service, you'll receive all of the above, plus:
Migration of all your current theme settings to the shiny new OS 2.0 version
Customization of your theme with your brand's logo, colors, fonts, and images
Setup of your navigation menu, homepage, product and collection pages, and information pages
Up to 1 hour of custom coding for minor theme customizations and up to 2 rounds of revisions
14 days of support via email, including custom explainer videos and screenshots
This service does not include:
Adding new product listings, collections, information pages, or blog posts (additional charges may apply)
Switching to a different Shopify theme (buy the Shopify Store Makeover Package for that)
New customizations to theme
 Project Timeline: 7 Business Days

Prices are in USD.